Blog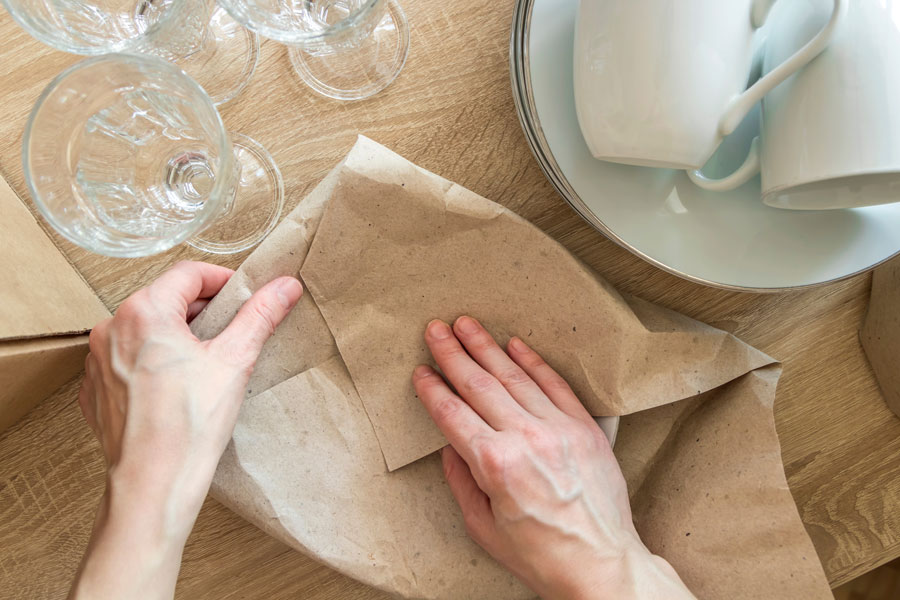 Packing for a move is not an easy job. Packing up the kitchen is extra challenging. The bulk of kitchen contents are dishes and dishes are delicate, fragile, and bulky. Packing them carefully can help you ensure that all your dishes make it to their new home in one piece. Here is how you can do so optimally.
Silverware
When preparing your silverware, it is easiest to bunch them into sets of six. Lay out a square of packing paper and place one piece on the corner, roll until it is covered, repeat the process with the remaining five pieces, secure the bundle with a tab of tape. As for knives, wrap these in paper and then with bubble wrap. This will make sure that the ends of your knives do not get damaged, and it will prevent injury when you are handling them as well.
Pots and Pans
Pots and pans can be tricky because they are bulky and awkward. The easiest way to pack these items is by nesting smaller like items into bigger ones. Wrap your largest starting dish with packing paper. Be sure to stuff enough paper into the base of the dish so that the other nested item does not jostle around and get scratched or broken. Once everything is fully nested, secure everything in place with a bit of tape so it does not move about.
Glasses
Glassware is best to pack individually. Begin by placing a square of packing paper down. Place the glass on its side at the corner of the paper sheet. Begin rolling the paper around the glass. Stuff any excess paper into the mouth of the glass for extra cushioning. As for stemware like wine glasses, sourcing a cell box is ideal. A cell box is simply a box with dividers inside. Wrap the wine glasses with paper before placing them in the cell box.
Dishware
For bowls and plates, packing them two of a kind is best. Plate on plate and bowl on bowl. Place your sheet of packing paper down and place your first dish on it. Fold a corner of the paper into the first dish, then place the second dish on top and wrap it the rest of the way. Secure the set with a bit of tape. Place the sets horizontally in the box instead of flat.
Moving is stressful enough. The last thing you need is to unpack broken dishes. If you follow these tips for packing, however, the odds that your dishes will arrive at their new home in one piece is high!
If you need to find your dream home before you start packing to move, start your search with Goodwyn! We would love to show you around our homes.
By Goodwyn Building 11-28-2022