Blog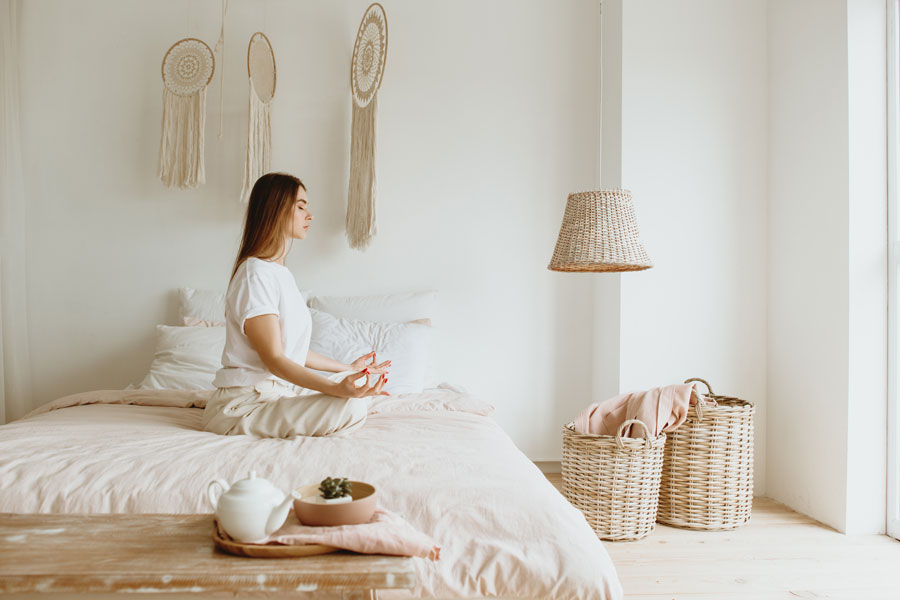 At Goodwyn Homes, we want our homes to be a safe haven for the families that live in them. The world outside your front door tends to be chaotic and crazy. When you want your home to be antithesis to that, here are some colors that are proven to contribute to a calmer, more peaceful space.
Crisp White
It probably comes as no surprise that white paint and white room accents can make a room feel peaceful and calm. Pretty much any shade of white can create peaceful surroundings from soft linens to soothing creams. To keep with the color scheme without it feeling clinical, bring in visual texture and different textiles. A crochet blanket, a macrame art piece, these things can help keep the room from becoming one note without creating visual clutter.
Breezy Blue
Blue is often associated with some of the most calming settings and elements. Summer breezes, blue skies, the ocean. Bring the calming energy of those places into your home with blue paint. It is best to stick to delicate shades of blue as deeper and stronger hues tend to be more energizing than relaxing. Think pale blues and white accents for a fully spa-like feeling.
Delicate Pink
Pink can be bright and vivacious. If you are going for soothing surroundings, opt for pale pinks instead, though. When pastel pinks are combined with warm wood furniture and accents, it can give off a romantic coastal vibe. And when paired with bold black, it evokes balance between feminine and masculine, which can make you feel satisfied when spending time in the space.
Gorgeous Green
Greens also evoke some of the most relaxing scenes. Sitting in the grass on a sunny day, being in the mountains surrounded by evergreens, the first Spring Day. It is no wonder then that when you bring green into your space, you bring the relaxing feeling of those places with it. Think sage greens and honeyed woods, and delicate, grassy hues. Enveloping your space with these shades will ensure that you feel at ease when you step into the room.
In summary, your home should be a place where you can find rest. Choosing to surround yourself with these paint colors can help ensure that it is.
By Goodwyn Building 2-23-2023