Blog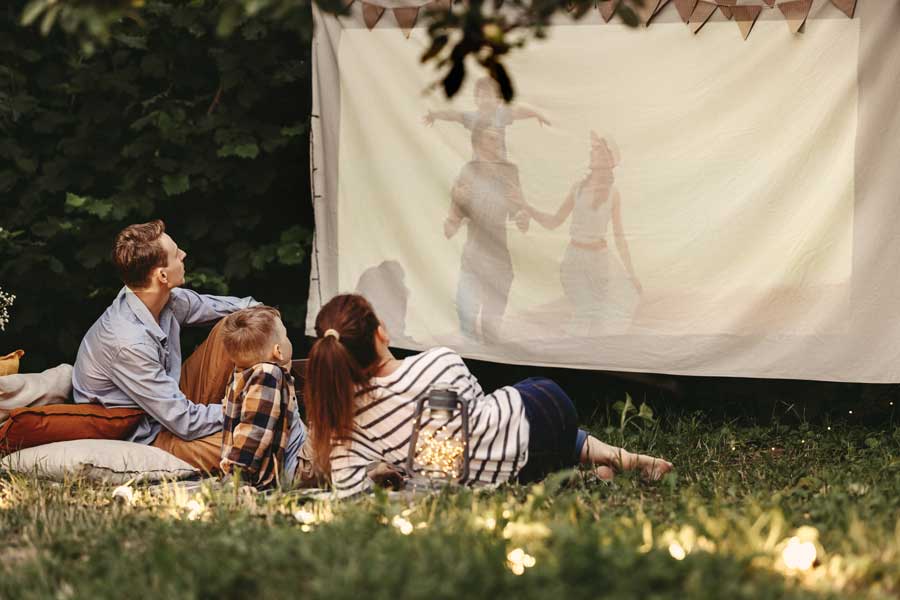 Hosting a backyard movie night is an enjoyable and warm way to spend time with friends. It's a simple way to take advantage of pleasant summer nights, and with a few adjustments, you could also have the event in the winter.
Here is a checklist to help you plan a successful backyard movie night.
Film screen
You'll need a movie screen to watch a movie outside unless you have a television on your lawn. Fortunately, getting the job done doesn't require spending a fortune on a beautiful projection screen.
A DIY movie screen may be made using a few simple materials you will likely already have lying around the house. Just drape a white sheet across an archway or over your fence to make the screen. The white sheet can alternatively be fastened to the house's siding using nails, tape, or staples.
Another option is to order an inflatable screen or rent a projector and screen from a nearby movie or party supply business.
Lighting
Given that you'll be watching the film outside, you'll need ambient lighting that is both bright enough to allow visitors to see where they're going and dark enough not to draw attention away from the screen.
Candle lanterns placed outside provide a warm touch, and you may use them to line the aisle next to the chairs. Additionally, you can utilize outside fairy string lights to produce a cozy mood. A festive touch can be added with colorful bulb lights and stake garden lights.
Comfy Chairs
You want your movie-watching environment to be cozy and soothing. For guests to watch the feature film, you can either make a DIY place or use already-existing backyard equipment, such as lawn chairs. Bring some dining chairs from inside the home if you don't have any backyard furniture.
To create a comfortable seating area, spread out beanbag chairs, sleeping pads, and pillows. A few blankets or sleeping bags should be provided so visitors can stay warm.
Movies
Play DVDs or movies from phone apps using a projector. Get a membership to a movie streaming service like Netflix, Amazon Prime Video, or Hulu to see new releases and timeless ​ films. A strong Internet or Wi-Fi connection is required for these alternatives to guarantee uninterrupted video playback.
Consider the tastes of your visitors when choosing the movie. Make sure the film is age- appropriate if there will be children in attendance. Choose movies for adults based on their sense of humor or hobbies. Blockbusters from the summer, classics, or films up for awards are all excellent options.
Snacks and Meals
Concession stand shopping is one of the most admirable aspects of going to the movies. Your refreshments don't need to be as expensive as they were at the film.
Create a popcorn and snack area for guests to use while watching the film. You could even roast S'mores while watching a movie if you have a fire pit in your garden.
Stock up on classic candies and various popcorn flavors, including sweet and salty varieties.
Goodwyn Building aims to create homes that you can make lasting memories in, like backyard movie nights. If you are searching for your forever home, start here!
By Goodwyn Building 9-26-2022